Tim Powles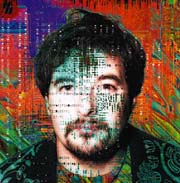 New Zealand born, arrived in Australia 1981 and as a drummer co-founded THE VENETIANS synth rock band. Contact with THE CHURCH through combined live appearances.
Thereafter followed a busy career as producer / songwriter / musician, contributing to many recordings of Australian artists, also becoming the casual touring drummer of choice for many top bands.
Brought in to play drums on recordings for THE CHURCH 'SOMETIME ANYWHERE' album 1994.
Continued to drum on STEVE KILBEY activities outside of THE CHURCH including JACK FROST, STEPHEN CUMMINGS, MARGOT SMITH, and MAE MOORE.
Writing and recording material with THE CHURCH for 'MAGICIAN AMONGST THE SPIRITS' album and accompanying live performances, precipitated a relationship for invitation to join the band permanently.
The collaborations eventuated in mixing MARGOT SMITH's 'TASTE' album, then co-writing, recording and mixing THE REFO:MATION's 'PHARMAKOI/DISTANCE CRUNCHING HONCHOS WITH ECHO UNITS'.
Thus followed drumming and co-mixing on PETER KOPPES' 'LOVE ERA/IRONY' album.
Later a debut solo album as tyg was also completed called 'tyg's in space'. He has since continued to co-produce, co-write, record and engineer THE CHURCH albums.
He has a successful carreer as a producer, with his work receiving extensive airplay on radio.



External links
© Immersion Records 2010