Pharmakoi/Distance Crunching
Honchos with Echo Units

by The Refo:mation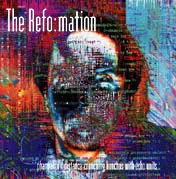 Download the following MP3 samples

1:07
DON'T MOVE
TRAITOR
SHE COMES IN SINGING
ALL SEE IT NOW
TRYING TO GET IN
FLORIAN TROUT
5:28
WHO IS THE ONE?
GET OVER IT
TAKE YOUR PLACE
TOWARDS SLEEP
THE MOON AND THE SEA
STOP


REF001CD
Released 1997


A sensation of travel pervades this multifarious music, not unlike a lyrical soundtrack to a road movie that encompasses space travel. The songs seemingly evoke the anticipations, shuttles, flights, contacts and satisfactions of destinations and arrivals. A perspective divorced from technology and at the same time, with an emotional adaption.

The Refo:mation is a word-play on the name for the historical reformation in western religion, and the reunification as The Refo:mation of the two founding members of the group The Church - Steve Kilbey and Peter Koppes. The light-heartedness is supported by The Church having had a reformation in itself at the time, with rejoining of errant former member Peter Koppes. The Refo:mation also includes the current drummer of the Church, Tim Powles.

Distance Crunching Honchos with Echo Units is a line of lyric from the "Move" song, variously interpretable, possibly a travel reference. Your embarkation is requested. Happy vacation!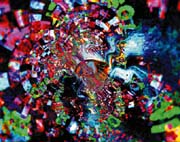 Produced by The Refo:mation
All songs by The Refo:mation

Steven Kilbey Vocals, Guitars, Bass, Keyboards
Peter Koppes Guitars, Keyboards, Bass
Tim Powles Mapex Drums, Percussion, Bass, Lead Vocal on "Take Your Place"

Additional Musicians:
Sandi Chick -vocals
Chris Campbell- guitar on "5:28"

Recorded at Karmic Hit Studios, Rozelle, Sydney, Australia
Engineered & mixed by Tim Powles
Assistant Engineer Chris Campbell
© Immersion Records 2010