Love Era/Irony
by Peter Koppes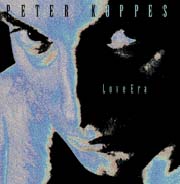 Downloadable 500Kb MP3 samples

CELEBRATION
THANKYOU
TWO IN A MILLION
COME A DAY
SOUND
APEX FARMER
OBLIVION AND BEYOND
MESSAGE
MAKE A MOVE
LUMINOUS
ESOTERICA

Download SOUND Video 7.4MB
Director Morgan Newell - Eyecircus Media



Windows Media Player required. Download here

IMM001CD

Release Date: 12 February 1998


The double titled 'LOVE ERA/IRONY' is the fourth album release of primarily PETER KOPPES compositions, and is significant for the greater content of co-written material.
The cover art accurately suggests a dark and moody rich music. The lyrical content is romantically mature and messages of respect and love prevail. The compassionate perspectives are positive insights for coming to terms with modern existence.
A powerful tapestry of meshing sounds and rhythms. Mixed with deft textural manipulation.





Produced by Peter Koppes.
Accompaniment:
Peter Koppes - Singing, guitars, bass, keyboards, electronic rhythms and percussion
Tim Powles - Mapex drums, non -electronic percussion
Sonia Chemarin - Singing
Suzi Kivi - Singing (Message, Make A Move)
Ryan McKay - Singing (Come A Day, Thankyou), guitar (Two In A Million, Come A Day, Apex Farmer), bass (Two In A Million)
Michael Cook - Guitar (Sound, Message)
Melvin Stewart - Bass (Come A Day, Message, Esoterica), singing (Apex Farmer)
Robert J. Howarth - Singing (Message)
Tex Tunks - Harmonica (Make A Move)
Recorded by Peter Koppes at La Maison, Bondi Beach, Australia and mixed by
Tim Powles and Chris Campbell and Peter Koppes at Karmic Hit Studio, Rozelle, NSW, Australia.
Cover Design: Photography/Photo Manipulation: Tyrone Kallmeier, Direction: Morgan Newell, Graphics: Trevor Savage, Layout: Julien Klettenburg.

© Immersion Records 2010