Misty Heights & Cloudy Memories

by Peter Koppes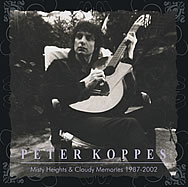 Downloadable 500Kb MP3 samples

Disc 1:
Met Her Today, Naked Soul, Blame, Leaving, Thankyou, Celebration, Two In A Million, Sound , Oblivion & Beyond , Make A Move, Grasshrooms, Caravan , Arabia, Sublimation, House Afire, Spirit March, On Wings Of Love.
Disc 2:
Peak To Peak, Her Mark, The Destroyer, I Wonder, The Lost Peace, Horses In The Sand, Desert Flower Bride, Testing 3.2.1, Take A Vow, These Three Things, Comes As No Surprise, A Drink From The Cup, Our Love, When Reason Forbids, Waiting, Soliloquy.

IMMOO7CD
Release date 20 December 2007
A double album compilation from Peter Koppes' sojourns from his post with The Church and derived from two EP's and five albums, some of which having been released by legendary USA labels TVT and RYKO, the first of which being recommended by Billboard Magazine. An eclectic mix of progressive styles ranging from rock/pop to psychedelia featuring embroided guitar and keyboard extravanzas underpinning songs that would also appeal to those with developed tastes.


All tracks published by Control except Peermusic. Disc One tracks 12-17 and Disc Two 1-14 except, Peer/Control track 3 and Campbell Connelly track 12. All tracks written by Peter Koppes except Disc One tracks 1. Koppes/Ploog 2. Koppes/Ploog/Tamstar 4. Koppes/Smith 7. Koppes/Cook 8. Koppes/McKay 10. Koppes/Tunks 11. Koppes/McKay Disc Two tracks 3. Koppes/Govorko 15. Koppes/Cook

Produced, Mixed and Engineered by Peter Koppes except: Disc One tracks 1-4 with Russell Grigg, tracks 5-11 mixed with Tim Powles and engineered with Chris Campbell, tracks 12-17 engineered by Ted Howard and Greg Courtney, produced and mixed with Greg Courtney and also Anthony and Jim. Disc Two tracks 1-3 with Ted Howard except engineering Ted Howard, tracks 4-8 engineered by Simon Leadley, Kirke Godfrey, Tim Ryan and mixed with Simon Leadley, tracks 9-14 with Paul Simmons, track 15 mixed with Tim Powles and engineered with Chris Campbell.

Mastered by William Bowden. Photographs by Kim Sandeman, Anthony Collins, Ilona Angel, Andrjez Liguz, Lizzie Szepsy (cover also) and Michelle Tracey. Cover and booklet design by Jonathan Adkins.


© Immersion Records 2010